Shoot (2008)
---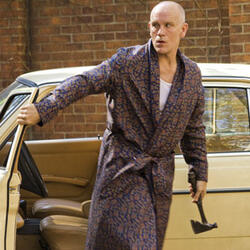 CIA-analist Osbourne Cox (John Malkovich) wordt ontslagen. Woedend besluit hij zijn memoires te schrijven, waarin hij de beerput eens flink wil legen over zijn vroegere werkgever. Helaas belandt de cd-rom met zijn aantekeningen op de sportschool van Linda Litzke (Frances McDormand). Zij wil dolgraag plastische chirurgie en denkt met het schijfje het geld ervoor in handen te hebben. Samen met haar sullige collega Chad Feldheimer (Brad Pitt) probeert ze Cox af te persen. Ondertussen lijkt er iets moois op te bloeien tussen Linda en haar internet-date, rechercheur Harry Pfarrer (George Clooney), die echter ook al een relatie heeft met Cox' echtgenote Katie (Tilda Swinton).

Kort na 'No country...'
De broers Joel en Ethan Coen kwamen begin dit jaar met het meesterlijke 'No country for old men'. Die thriller leverde een wagonlading prijzen op, waaronder vier Oscars (o.a. Beste Film en Beste Regisseur). Maar in plaats van even achterover te leunen en te genieten van de eer en glorie waren de broers al druk bezig met 'Burn after reading', die amper acht maanden na 'No country for old men' uitkomt. We waren wel even bezorgd; de Coens zouden toch niet lijden aan het Woody Allen-syndroom? Deze regisseur maakt in zo'n moordend tempo films dat de glans van pareltjes als 'Match point' al heel snel dof werd door snelle, maar beduidend mindere opvolgers als 'Scoop' en 'Cassandra's dream'.

De stijl van 'Fargo'
De vraag is dus of 'Burn after reading' minstens in de schaduw kan staan van 'No country for old men'. Het antwoord is gelukkig ja. Maar wel met een aantekening: mensen die de Coens pas hebben ontdekt met 'No country...' moeten niet verwachten dat 'Burn after reading' in dezelfde stijl is gemaakt. Het thrillerelement heeft plaatsgemaakt voor zwarte komedie en wat dat betreft ligt de film meer in de lijn van 'Fargo' (1996). Mensen die de broertjes al wat langer volgen, weten dat dat zeker een aanbeveling is!

Normale idioten
De personages die 'Burn after reading' bevolken, lijken op het eerste gezicht normaal, maar zoals altijd in de wondere Coenwereld is er bij nader inzien toch iets vreemds met hen aan de hand. Harry Pfarrer met zijn seksmachine (zien is geloven), Linda Litzke met haar lichaamsobsessie, Chad Feldheimer met zijn kapsel... Het is een bont gezelschap dat echter nooit zo vreemd is dat we de gedachten niet meer kunnen volgen. Wat helpt is het overduidelijke plezier dat de acteurs in hun rollen hebben (vooral Brad Pitt wentelt zich gelukzalig in zijn rol van eersteklas nerd Feldheimer) en de pareltjes van absurdistische dialogen.

Laconieke FBI
'Absurdistisch' is bij deze film sowieso het steekwoord. Het verhaal klinkt als een standaard thriller: een cd-rom met geheime CIA-informatie mag niet in de verkeerde handen vallen. Maar het bizarre is dat iedereen zich hierover zorgen maakt... behalve de medewerkers van de CIA zelf. Die hebben gedurende de hele film geen idee wat er nu eigenlijk aan de hand is, en kijken met verbaasde nieuwsgierigheid naar alle heisa en uiteindelijk naar de doden die er vallen. "Report back to me when it makes sense", verzucht de CIA-chef (J.K. Simmons) aan zijn ondergeschikten.

Totaalervaring
Voor ons kijkers is de logica soms ook ver te zoeken. Maar het gaat meer om de totaalervaring die 'Burn after reading' geeft. De personages fascineren, en hun acties doen ons soms schrikken en soms schateren. Joel en Ethan Coen zitten in een goede, creatieve fase, dus wat ons betreft mag hun volgende film zo snel mogelijk uitkomen.